Iceland
A month after we got back and I'm finally getting Iceland pictures up! We had a fabulous time, and took WAY too many photos (they don't ALL have quilts or sweaters in them..).
We spent most of our nights in Reykjavik, although we did stay one night in a little AirBnB cottage in order to break up our two-day driving/hiking/hot-springing/waterfall-seeing tour of the southern coast, and we did day trips to the Golden Circle (a grouping of beautiful sight-seeing destinations within an hour or two of Reykjavik) and up to the Snaefelsnes peninsula on the west side of the island. If we could do it all over again, we would definitely spend more nights outside of Reykjavik- it's a small enough island that you can see a lot of it, but big enough that breaking up otherwise long driving days isn't a bad idea. And while it was cheap and easy to get to Iceland, be prepared to fork it over once you land (this is the land of $24 cocktails and $7 gallons of gas). That said, we're already thinking of a return trip for a long-weekend, Northern Lights hunting trip in the next few years!
We had two primary groupings of quilt pictures, and the first one was on this beautiful black sand beach bythe city of Vik on the south coast of the island. There were specific pictures I wanted with this quilt in the two spots we got her out, and the first picture in this bundle nailed it. I just wanted it on the black sand, against the columnar basalt formations, and luckily my husband doesn't think I'm crazy! This beach stretched forever, and we had so much fun watching the bright white surf crash on the black shores. There's probably a quilt somewhere in there...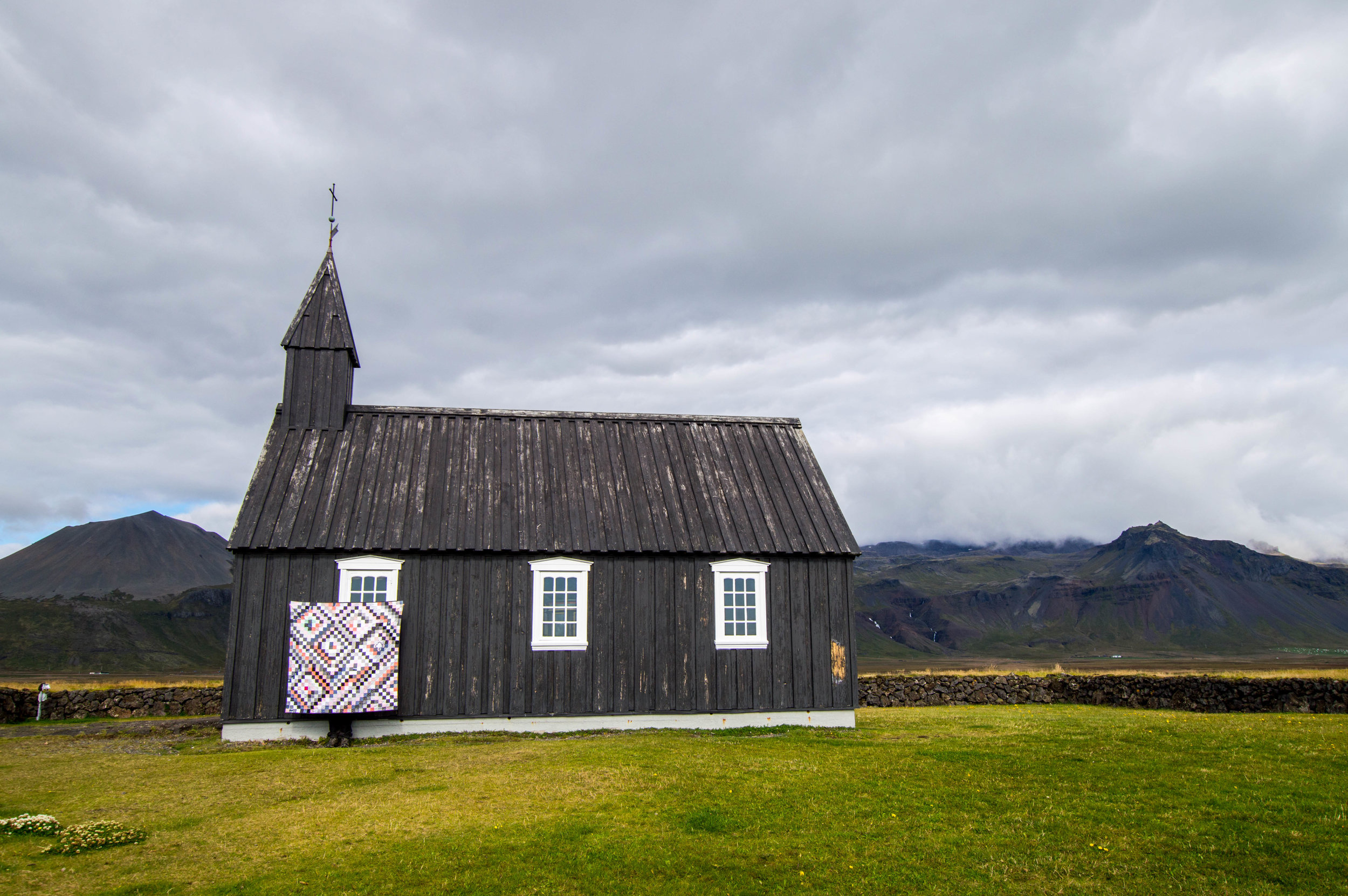 The other place I really wanted pictures of the quilt (and my sweater, which you can see here), was at this tiny church in this tiny town called Budakirkja. It's on the south side of the beautiful Snaefelsness peninsula, just as you come out of the mountains, and it's situated in the middle of a big, mossy lava field filled with sheep. I wish we would have picnicked here- the views were tremendous, the weather was perfect, and we were in sight of the Snaefelsnes glacier, which caps off the peninsula. You might recognize one of the shots as the photo on my business cards..
After coming back and looking at the quilt pictures, I realized that, as much as I like to get a little wild with paper-piecing or complex blocks from time to time, I always find myself thinking ahead to the next simple patchwork project. There's so much complexity and movement you can add with color and fabric choices once you aren't worried about shapes and seams, and a a result I have a new one in progress and another one on deck! Since you made it through all of these (or maybe you just scrolled- that's okay too :), here's a sneak peek at my new colorway!